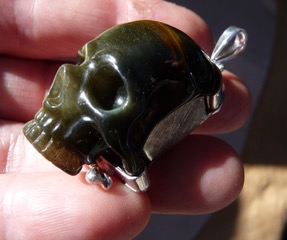 Yo HO Yo HO… a pirates life for meeee!
This commissioned piece is a good example of how existing jewelry can be turned into something new! My customer had a large green tigereye stone ring that broke at the shank. We came up with a fun solution to use the stone as the centerpiece for a sterling silver box pendant, that could open up! When opened, the hinge allows the pendant to reveal a small space. It's perfect for hiding secret pirate treasure!
We even added a skull and cross bone design to where the secret box snaps shut, completing the pirate design.
Hmmm, I guess it's Yo HO Yo HO, a pirates life for Ron!