Artist's Statement:
Kimberly J. Munson Nicholson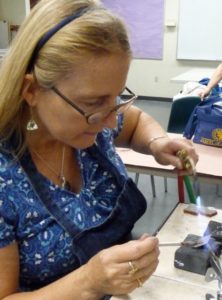 Custom Jewelry and Repairs  
My training as a professional jeweler comes from over 30 years of custom manufacturing with individuals in the jewelry trade.
I've worked in the jewelry district in downtown Los Angeles, as well as at local jewelry stores in Covina and Monrovia for 20 years.  I hold degrees as a Graduate Gemologist from GIA, a Bachelor of Fine Arts in jewelry and Metalsmithing from CSULB, and an AA from PCC in Jewelry and Metalsmithing.
Since 2008, I have been teaching jewelry fabrication classes at The Creative Arts Group in Sierra Madre, and continually display my artwork in their fine art gallery.
I find great satisfaction in creating pieces that bring passion to the wearer, thoughts of tradition, love of family, a source of introspective comfort, or a glimpse of wild future dreams. The mental spark could be as simple as recognizing the beauty of form through the use of natural materials. Thus, I am an instigator of inspiration, sharing part of my soul with the world.
Let's get in contact, and start the creative process!